Diesel Forklift Truck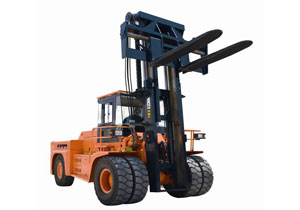 With senior forklift truck engineers, we at SOCMA are able to manufacture high quality heavy-duty diesel forklift truck products that meet the application needs of customers.
Features
1. With large ground clearance, the diesel forklift truck offers improved cross country ability and trafficability. The forklift has wide applications in many industries and is of great value for money.
2. The forklift truck comes with optimized framework which provides high stability and gets rid of the risk of the truck tumbling. The turning radius is small, allowing flexible movement and easy operation.
3. The parts have high cost-performance and easy maintenance.
4. The lifting height of the diesel forklift truck is over 3m, which can be customized.
5. It is equipped with a unique cylinder to facilitate rear wheel maintenance and to suit severe working conditions.
6. The mast using special roller bearings ensures extended use life and improved reliability.
7. The pressure limiting valve is used for safety, misoperation prevention and reduced damage to the hydraulic system.
8. The driver's cab, with skylight design, is spacious and bright, and offers good view and great comfort.
9. The use of detachable rear counterweight not only reduces early wear of tyres, but allows the diesel forklift truck to serve multiple purposes.
10. The fork works under hydraulic control.
11. The high magnification ratio brake system ensures it meets the heavy-duty braking needs.
12. The accessories are highly universal, easy and quick to maintain, which results in low cost, time saving and improved efficiency.
Main Configuration of the Diesel Forklift Truck
Engine (standard configuration)
The diesel forklift truck uses Dongfeng Cummins diesel engine. The high quality turbocharged engine has low oil consumption, good power performance, large torque reserve, powerful drive, and is eco-friendly and energy efficient.
Steering system
The fork truck uses the steering axle with horizontal cylinder, offering full hydraulic, flexible steering and high reliability.
Gearbox and torque converter
The transmission case and torque converter used for the diesel forklift truck are advanced products with reliable performance, easy operation and maintenance, and stable transmission.
Service braking system
Wet multiple-disc brakes are utilized for fork trucks with the tonnage higher than 25, providing large brake torque, long life, heat fade resistance, and high anti-pollution capability. The totally enclosed type braking system is maintenance free, not affected by water, dust and impurities outside, with fast and steady braking, good heat dissipation, stable performance, and high safety.
Control system
The pilot valve control results in improved working efficiency and reduced labor intensity for the driver.
Hydraulic system
With confluence of double pumps, the hydraulic system has low power consumption, and reliable performance.
Pipeline
The high pressure oil passage of the diesel forklift truck use world-famous PARKER pipe to ensure impact and wear resistance and long life.
Tyre
The wear resistant, high strength tyres used for the fork truck provide puncture prevention, heavy load bearing capacity, safety and reliability.
Fork
The forklift truck employs CASCADE fork which has higher strength, better anti-wear performance, and tremendously extended life.
Mast
The diesel forklift truck employs box type inner and outer masts. Special roller bearings are used to improve the lifting performance.
Driver's cab
The cab comes with explosion proof membrane, and provides explosion protection, heat insulation, anti-glare, sound insulation and vibration reduction. With skylight design, comfortable seats and air conditioner, the cab provides a broad view and flexible operation.
Optional
Engine: Steyr or Yuchai engine
Transmission: Liuzhou ZF transmission or Hang Chi gearbox made using ZF technology
Drive system: four-wheel drive
Mast: high mast, side shift
Fork: boom for carrying steel coils
Others: quick change system, solid tyre, visual reversing sensor, centralized lubrication system
Application
The diesel forklift truck has found countless applications in domestic and overseas stone industry, dock, quarry, stone mine, leasing industry, steel industry, railroad terminal, timberyard, industrial and mining establishment, as well as transportation and loading, etc.
Parameters of the Diesel Forklift Truck
Item
Unit
HNF150G
HNF160G
HNF200G
HNF250G
HNF300G
Rated load-lifting capacity
Kg
15000
16000
20000
25000
30000
Weight
Kg
20000
20000
26000
30000
37550
Max. lifting height
mm
3500
3500
3300
3300
3000
Load center distance
mm
600
600
900
900
1250
Max. lifting speed
mm/s
300
300
180
180
290
Mast tilt angle (Front/Rear)
deg.
6/12
Travel speed
Max. travel speed
Km/h
30
30
25
28
28
Min. turning radius
mm
5800
5800
5800
6300
8500
Min. ground clearance
mm
250
250
230
230
350
Gradeability
%
20
Total length
mm
7410
7430
7770
8250
8675
Total width
mm
2750
2750
3020
3020
3000
Total height
mm
3625
3625
3500
3500
3850
Fork size
mm
1800*180*90
1800*180*90
1800*260*100
1800*280*110
2000*330*120
Wheelbase
mm
3800
3800
4000
4400
4100
Front wheel
mm
2060
2060
2200
2200
2160
Rear wheel
mm
2330
2330
2390
2390
2150
Engine
Rated power
kw
142
142
160
179
194
Rated revolution speed
rpm
2200
2200
2200
2200
2200
Oil pressure of hydraulic system
Mpa
16
16
16
18
18
Tyre specifications
Front
4x12.00-24-18PR
4x12.00-24-18PR
4x14.00-24-24PR
4x14.00-24-28PR
4x14.00-24-28PR
Rear
2x12.00-20-18PR
2x12.00-20-18PR
2x14.00-24-24PR
2x14.00-24-28PR
2x14.00-24-28PR
Note:
1. The product parameters are subject to change without prior notice.
2. The actual product may differ slightly from the images shown.
As a professional diesel forklift truck manufacturer based in China, we provide a vast range of products, including mine diesel forklift truck, telescopic loader, telescopic forklift, telescopic crane lift truck, and more.
Other Products
Container Diesel Forklift TruckThe diesel forklift truck uses heavy truck type high magnification ratio braking system to ensure heavy duty braking capability and reliability.
With twin-pump confluence...
Mine Diesel Forklift TruckThe mine diesel forklift truck utilizes a powerful diesel engine with reliable performance and good economy.
With small turning radius, the full hydraulic steering system achieves easy ...